Solution to the Two Children Puzzle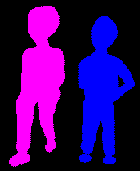 There are two equally probable possibilities:
1) The younger child is a boy.
2) The younger child is a girl, and therefore both children are girls.
It can therefore be seen that, given the information we have, the probability of Mr Kidd having two girls is 1/2.
Now consider this...
Professor Ravenscroft also has two children. At least one of them is a boy.
What is the probability that both his children are boys?