Chess Problem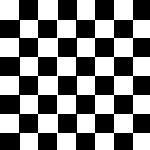 Consider a chess board of any size.
You and your opponent take it in turns to place a piece on the board until there is no more room. You don't have to place your pieces within any of the chess squares. You can place them anywhere on the board.
The winner is the last player to put their piece on the board. There is an unlimited supply of pieces and each piece covers exactly the same area of the board. You are not allowed to move any of the pieces already on the board when you place your piece.
If you start, and play optimally, can your opponent win?