Sinning Optical Illusion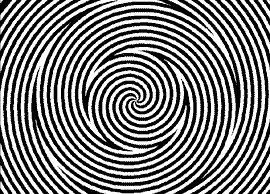 This is a great practical illusion which must be tried.
Click here to download the small program (21Kb). You may need to save it to your hard drive in order to let it run, depending on your operating system.
NB Always be careful when downloading .exe files from the internet as they may contain malware. It is generally advisable to scan any files you download before opening them.
Once you have opened the program, stare at the dot in the centre of the illusion for approximately sixty seconds.
Keep your hand on your mouse, and when the sixty seconds are up, look at the back of this hand.