3D Moving Dragon Illusion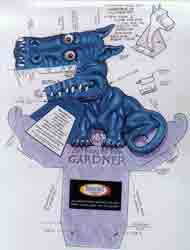 This is an amazing practical illusion for you to try at home.
Download a full size version of the image on the left:
Once you have downloaded it, print it out on a sheet of A4 paper and follow the accompanying instructions to create the 3D dragon.
If you have assembled it correctly, the head of the dragon will appear to be concave. However, if you look at it with just one eye, you should be able to see it as though it were convex (ie coming towards you). For some people this may take some time, but it is worth persevering. (If you are stuggling to see it, try not to look at the dragon with both eyes before you look at it with one eye. Put the dragon at eye level and stand about 4 foot away.)
Once you manage to see the image in this way, start moving your head so that you are looking at the dragon from a different angle. It should now appear as though the dragon's head is moving, following you as you move!
Click on the thumbnail images below to see how the dragon should appear from different angles.
This illusion is reproduced with permission from www.thinkfun.com.