A. Wyatt Tilby (1880-1948) was a journalist and author of history and philosophy by profession. As a child his surrogate parents were informed that his health was such that he was unlikely to live beyond childhood, and consequently he was deprived of a formal education.
A Stiff-Necked Generation, written in 1920 during a period of convalescence from presumed TB, was never published in the authorís lifetime for fear of offending his family upon which it is based. Spanning three generations, from the marriage of his grandfather to his own development from neglected child to independent adult, the picture he paints is of a disharmonious family, blighted by sibling rivalries and philosophical differences. In particular, he contrasts his own passion for learning and experience with his uncle's lust for money and power.
Set predominantly in Victorian London, moving through Holborn, Tooting, Wimbledon and Shoreditch, this beautifully written autobiographical novel offers a rare and authentic insight into a bygone age and the enduring nature of the human condition.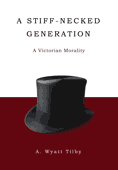 Book Details
Title: A Stiff-Necked Generation
Sub-title: A Victorian Morality
Author: A. Wyatt Tilby
Publisher: Robert Saunders
Distributor: Bookforce.co.uk
ISBN: 978-1-906146-10-8
Format: Paperback, 200 pages
RRP: £6.99
"An involving and affecting work ... Tilby's ability to breathe life into his scenes and characters transcends notions of fashion." The Guardian 22/09/07